NUADU together with the American organization SEL for Prevention (Social and Emotional Learning) provide an educational program and digital technology enabling students aged 5-14 to develop important life skills.
Why manage emotions and social skills?
Preventative programs help to develop skills that allow students to cope better on a daily basis and live a fuller, more fruitful life. The SEL for Prevention program can help reduce risk factors associated with self-destructive and aggressive behavior, and has shown positive results including academic performance, reduced stress, improved attitudes and behavior, and better functioning in society, school and professional environments.
A program with passion
SEL for Prevention is an evidence-based social and emotional learning program that covers a wide range of ages and proficiency levels. The program was created by Pamela Goldberg, a child therapist and former critical care nurse with a passion for prevention. As a licensed therapist for marriages and families, she realized that strong physical health begins with the development of strong mental health. This led her to create effective tools and strategies to promote positive mental health for students and schools.
8 steps to success
The SEL for Prevention program includes 8 basic social and emotional areas, within which it provides knowledge, skills and strategies designed to promote the healthy interaction and safe regulation of feelings, thoughts, and behaviors.
These 8 concepts, called steps, are:
Peer Connections
Identifying & Expressing Feelings
Respecting Boundaries
Building Empathy
Mood Control
Stopping Manipulation
Self-Regulation
Motivation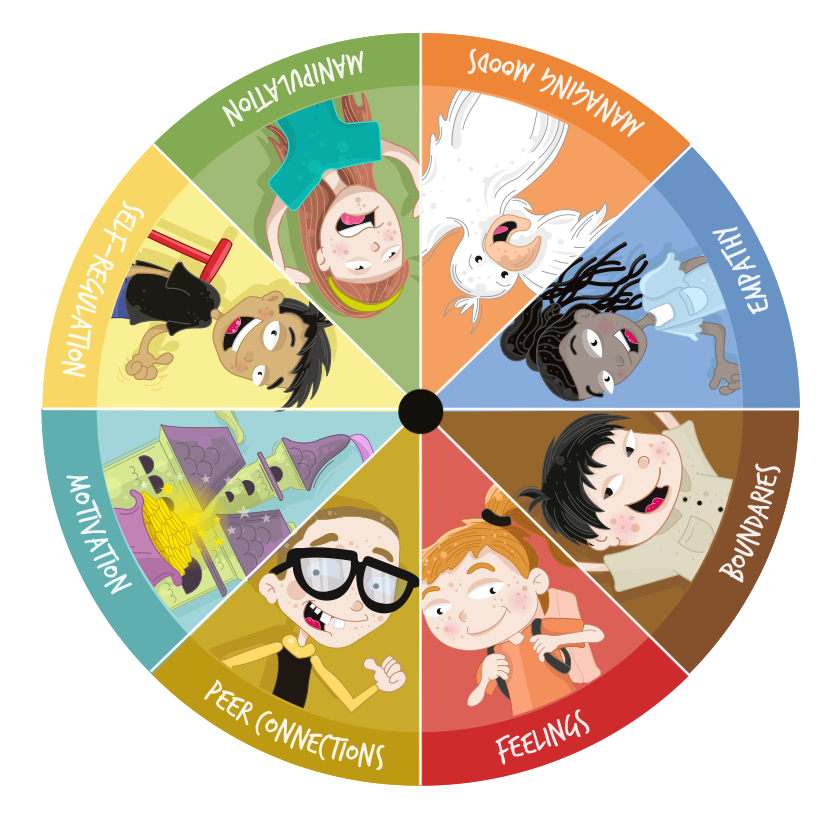 The SEL program is easily adaptable and can be taught as an independent course or integrated with the appropriate curriculum. The program uses research-based social and emotional learning curriculum that uses educational tools as well as storytelling, art, drama classes, music and intimate discussions in order to create an organic learning experience for children and equip them with strategies to keep them safe.
Technology that supports the learning of life skills
Pupils require access to curricula that are innovative, engaging and entertaining, and based on research.

Pamela M. Goldberg, founder of SEL for Prevention
NUADU's innovative technology perfectly supports Ms. Goldberg's mission, and our team has successfully digitized nearly 700 tasks, 130 presentations, and 32 lessons.

Transitioning to a digital environment not only saves teachers' time in preparing materials for classes, but also encourages children to learn. Parents are also included in the teaching process, as they have access to the system, receive notifications about their child's activities, as well as specific messages prepared for parents to support the emotional and social development of their child. The platform supports all forms of formative and summative evaluation in order to minimize the time spent by the teacher on paperwork, evaluation and assessment. This allows teachers to make the most of their valuable time, to better plan their lessons, and support their students.
Personalize learning by grouping students in targeted ways
The NUADU solution together with SEL for Prevention content can be used as a prevention among all children or intervention in selected groups. Including all children in the program does not exclude an individual approach to each student. The key advantage of the adaptive NUADU algorithm is the automatic adjustment of the content to the level of knowledge and skill of the students. The system identifies gaps in the area of a given SEL area and proposes activities that can raise competency levels. The system also provides individual feedback during assessment, which increases motivation to learn. Teachers can similarly conduct classes in NUADU only for selected students, dividing them according to their specific needs.
A solution for 500 schools in the United States
Cooperation with SEL for Prevention was initiated thanks to Global Grid for Learning, an organization that enables school environments to implement innovative technologies to improve education. Thanks to the joint project, 500 schools in America under the grant will benefit from the NUADU platform in the next 3 years.
The NUADU Content Department is currently working hard to digitize thousands of pieces of educational content from renowned publishers around the world. Their high efficiency makes projects such as Global Grid for Learning possible.