Analiza zachowania użytkowników platformy edukacyjnej NUADU w ostatnim czasie, pozwala zaobserwować interesujące dla edukacji zdalnej wnioski i pokazać proces adaptacji szkolnictwa do nowej rzeczywistości.
W ciągu ostatnich tygodni zamknięcia szkół z powodu pandemii Covid-19, w obszarze edukacji zaszły ogromne zmiany. Przekształcenie klasycznego modelu nauczania, w którym występuje codzienna interakcja pomiędzy uczniem a nauczycielem, na model pracy zdalnej w tak krótkim czasie okazało się dużym wyzwaniem zarówno dla nauczycieli, jak i uczniów, rodziców czy dyrektorów szkół. Analiza zachowania użytkowników platformy edukacyjnej NUADU w ostatnim czasie, pozwala zaobserwować interesujące dla edukacji zdalnej wnioski i pokazać proces adaptacji szkolnictwa do nowej rzeczywistości. Próba statystyczna została wykonana dla 50 tys. uczniów oraz 4 tys. nauczycieli.
1. Inicjatywa wypływa od nauczycieli
Aby zapewnić ciągłość nauczania, nauczyciele musieli w bardzo krótkim czasie zaadoptować technologię – wprawdzie dostępną na rynku od dawna, ale dotychczas wykorzystywaną w szkolnictwie w relatywnie niewielkim zakresie.
Istotnym elementem procesu była adaptacja takich narzędzi jak:
Dzienniki elektroniczne – wykorzystywane w szkołach już od około dekady
Platformy e-learningowe i narzędzia do ewaluacji wiedzy – w ostatnich latach coraz chętniej wykorzystywane w codziennej pracy jako narzędzia usprawniające pracę nauczyciela, w tym platforma NUADU
Narzędzia do komunikacji zdalnej – dostępne na rynku od wielu lat, zazwyczaj nie sprawdzające się w klasycznym modelu szkoły, przeżywające obecnie swój renesans – np. platformy do video-konferencji, video-czaty czy następca popularnego Skype – aplikacja Microsoft Teams
Przykładem wzrostu zainteresowania narzędziami do zdalnej edukacji są statystyki użycia aplikacji NUADU na przestrzeni lutego 2020 – kiedy zajęcia obywały się jeszcze normalnie w szkołach, marca 2020 – po zamknięciu szkół i kwietnia 2020 – kiedy nauczanie zdalne stało się normą.
1.1 Logowania
W okresie zamknięcia szkół znacząco wzrosła liczba logowań do aplikacji zarówno nauczycieli, jak i uczniów. W marcu, dla kont nauczycieli, wzrost wyniósł 254%, a w przypadku kont uczniowskich – 213%.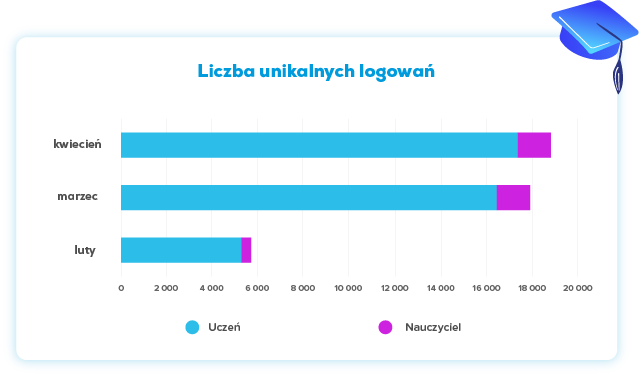 Warto zauważyć, że średni czas trwania sesji w systemie wynosi blisko 75 minut w przypadku ucznia i ponad 60 minut dla nauczyciela. Stanowi to potwierdzenie, że użytkownicy znajdują w systemie funkcjonalności, które je angażują.
1.2 Zadawanie zadań
W okresie zamknięcia szkół znacznie wzrosła liczba zadawanych przez nauczycieli aktywności. Mianem "aktywności" określamy zadane przez nauczyciela zestawy indywidualnych prac w postaci zestawów zadań, kartkówek, próbnych egzaminów.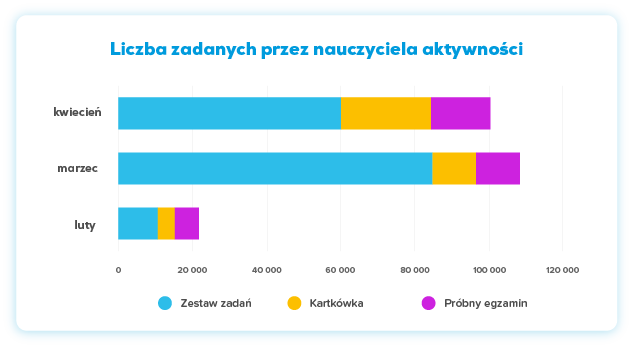 Na podstawie powyższych danych można zauważyć znaczący wzrost zadawanych aktywności, porównując miesiąc luty oraz marzec zauważamy wzrost na poziomie 486%. Miesiąc kwiecień utrzymuje przewidywany trend.
1.3 Odrabianie zadań
Współczynnik odrabiania zadań, czyli stosunek liczby rozwiązanych do liczby zadanych zadań kształtuje się odpowiednio dla lutego 68,5%, dla marca 73% i dla kwietnia 74%. Pokazuje to, że uczniowie chętnie rozwiązują przydzielone zadania w aplikacji, zarówno w modelu klasycznej szkoły (miesiąc luty) jak i modelu pracy zdalnej (miesiąc marzec i kwiecień).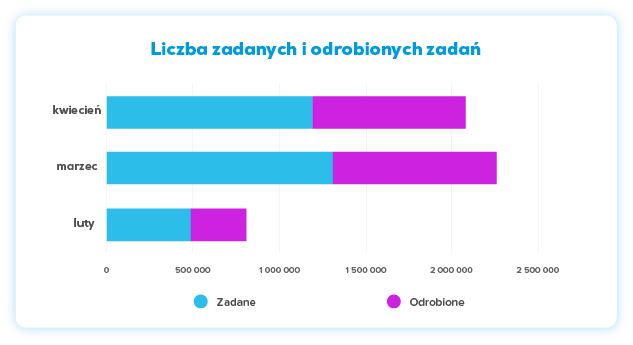 Na podstawie powyższych danych można zauważyć, że nauczyciel swoimi działaniami w systemie definiuje sposób pracy uczniów co bezpośrednio przekłada się na wzrost ich użycia i zainteresowania aplikacją NUADU. Tak jak w klasycznym modelu szkoły, nauczyciel jest głównym motorem pracy ucznia.
2. Najpopularniejsze funkcjonalności
System NUADU, zaprojektowany z myślą o usprawnieniu procesu nabywania i ewaluacji wiedzy, oferuje nauczycielom szereg funkcjonalności, takich jak zadawanie i tworzenie własnych zadań, automatyczne sprawdzanie rozwiązań, narzędzia umożliwiające indywidualizację procesu nauczania w oparciu o gromadzone dane, czy rozbudowaną bazę materiałów interaktywnych oraz scenariuszy lekcji.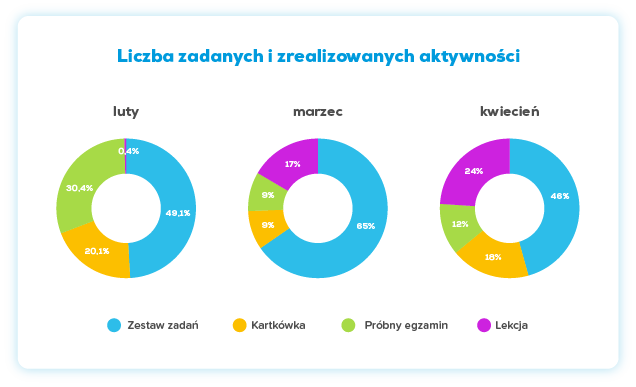 W początkowym okresie zamknięcia szkół nauczyciele korzystali głównie z zadawania uczniom gotowych zestawów zadań, automatycznie sprawdzanych przez system. Wraz z wydłużaniem się nauczania zdalnego zaczęli chętniej korzystać z innych aktywności, takich jak kartkówki czy egzaminy próbne. Największym jednak wzrostem zainteresowania cieszą się do tej pory niewykorzystywane gotowe scenariusze lekcji.
3. Gotowość nauczycieli w zakresie wykorzystania narzędzi do nauki zdalnej
Nauczyciele, a w szczególności ci z dużym doświadczeniem pedagogicznym nabytym w klasycznym modelu nauczania, wykazują potrzebę nabywania wiedzy i umiejętności związanych z obsługą narzędzi do edukacji zdalnej, w tym korzystania z komputera czy tabletu.
Zwiększone zainteresowanie prowadzonymi przez NUADU szkoleniami, organizowanymi webinarami, udostępnianymi samouczkami czy wzmożone korzystanie ze wsparcia czatu dostępnego 24/7 świadczy o lawinowym wzroście zaangażowania nauczycieli.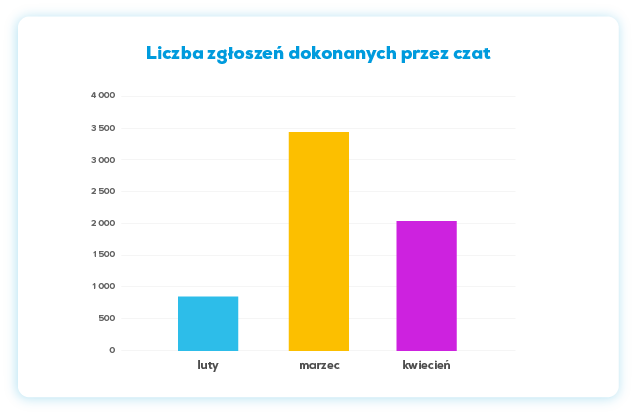 W marcu liczba zapytań dotyczących praktycznych aspektów wykorzystania systemu NUADU zgłoszonych za pośrednictwem linii wsparcia wzrosła czterokrotnie w stosunku do lutego.

4. Gotowość szkół
Szkoły, które wdrożyły NUADU kilka miesięcy czy lat temu, wykazują znacznie większe zainteresowanie i użycie systemu w okresie zamknięcia szkół w porównaniu ze szkołami, które dopiero zaczynają technologię wdrażać. Przykładem jest Miasto Gdynia i Warszawa (dzielnica Targówek), gdzie zaobserwowane użycie, zarówno przez nasz zespół, a także przez włodarzy, którzy mają dostęp do statystyk w czasie rzeczywistym było znacznie wyższe. W marcu liczba zadanych w tych szkołach zadań była o 40% większa niż w pozostałych szkołach.
Obecnie z rozwiązania NUADU korzysta w Polsce około 150 szkół. Dla przeważającej większości z nich, narzędzie stało się z dnia na dzień domyślnym rozwiązaniem umożliwiającym kontynuację procesu kształcenia.
Warto również zauważyć, że wszystkie nowe wdrożenia systemu NUADU w szkołach w miesiącu marcu i kwietniu odbyły się w pełni zdalnie, w tym prezentacja rozwiązania, podpisanie dokumentów, konfiguracja i szkolenia. Świadczy to o większej otwartości jednostek edukacyjnych na zdalny proces współpracy.
5. Zaangażowanie rodziców w proces nauczania
Rodzice pełnią obecnie jedną z głównych ról w procesie edukacyjnym uczniów. Warto zauważyć, że wzrasta wśród nich świadomość znaczenia wykształcenia dziecka dla jego późniejszego życia, co powoduje, że rodzice stają się partnerami władz państwowych i szkoły w sprawach edukacji.
W aplikacji NUADU rodzic pełni rolę "nadzorcy" nad procesem edukacyjnym dziecka. Ma możliwość:
podglądu statusu aktywności zleconych dziecku,
przeglądu terminu ukończenia aktywności,
przeglądu raportu wyników aktywności wraz z widokiem wszystkich prób odpowiedzi udzielonych przez dziecko.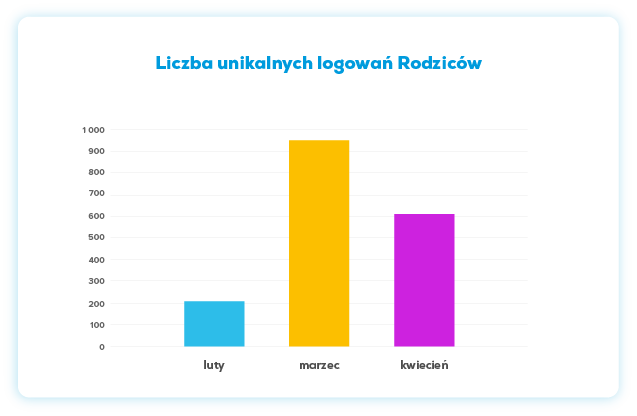 W okresie zamknięcia szkół zauważyliśmy znaczący wzrost zainteresowania platformą wśród rodziców. Wynika to z faktu, iż rodzice zaczęli organizować czas nauki swojego dziecka, nierzadko udostępniając swój komputer. W porównaniu do lutego 2020, zanotowaliśmy wzrost logowań rodziców o 349,3% w marcu.
6. Dobry czas na samodzielną naukę
W okresie zamknięcia szkół uczniowie, oprócz odrabiania zadanych przez nauczycieli w systemie aktywności, zaczęli w większym stopniu korzystać z funkcjonalności Praca własna, która pozwala samodzielnie nadrobić braki z danego obszaru. Wzrost zainteresowania wyniósł w marcu 400%.
W tym okresie też, NUADU podjęło decyzję o udostępnieniu uczniom klas IV – VIII materiałów edukacyjnych w postaci zadań i materiałów interaktywnych do pracy indywidualnej. Oznacza to, że każdy uczeń może nabywać wiedzę i rozwijać swoje umiejętności samodzielnie, bez udziału nauczyciela. To kolejna metoda pracy zdalnej bardzo chętnie wykorzystywana przez uczniów, o czym mówi poniższe zestawienie obrazujące liczbę wygenerowanych zestawów "Pracy własnej".

7. Podsumowanie
Początki edukacji zdalnej jak pokazują powyższe wnioski nie są tak trudne, jak by się mogło wydawać. Droga do wymarzonej edukacji bywa wyboista, natomiast transformacja się zaczęła i trwa.
Wraz z otwarciem się szkół na technologię niezbędną do prowadzenia zajęć zdalnie realna staje się wizja wsparcia nauczycieli w obszarach możliwych do obsłużenia przez technologię, tak aby mogli skupić się na tym co najważniejsze – nauczaniu i wsparciu uczniów.
Aktualnie platforma NUADU wyręcza nauczyciela w sprawdzaniu zadanych uczniom zadań, pokazuje indywidualne wyniki każdego ucznia, podpowiada treści pomagające uzupełnić wiedzę uczniów, pozwala oszczędzić czas nauczyciela na rutynowych czynnościach i wskazuje obszary, w których uczniowie wymagają pomocy.
Czerpanie z dobrodziejstw technologii pozwoli na zmianę roli nauczyciela w procesie edukacyjnym z klasycznej, w której jest osobą przekazującą zagadnienia do opanowania (Content provider) na osobę będącą wsparciem, pomagającą uczniom osiągnąć wyznaczone cele (Facilitator).
Zmiana ta, opisywana od lat w światowej literaturze pedagogicznej, jest wysoce pożądana, ponieważ prowadzi do długo wyczekiwanej ewolucji podejścia dotyczącego kształcenia uczniów o stale zmieniających się potrzebach. Cyfrowy świat, a co za tym idzie zdalna edukacja, umożliwiają tę transformację w najprostszy i najmniej inwazyjny sposób.
Autorzy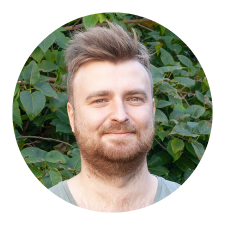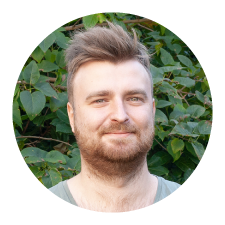 Dla nauczycieli zainteresowanych wdrożeniem NUADU w szkole:
Dla rodziców i uczniów zainteresowanych zadaniami i zasobami wiedzy dla klas IV – VIII w aplikacji NUADU: