Recent events are changing how we think about teaching. With safety in mind, more educational institutions are organizing homeschooling and part-time distance learning to keep up with the curriculum.
Teachers are under pressure to figure out which online learning tools work best and how to use them. Often, they cobble together a mix of online tools to create a virtual classroom — with mixed results. It doesn't help that technology implementation can be quite daunting, as teachers need to learn new jargon like AI, SaaS, machine learning, etc.
Why not make the process easier with a platform that's tailored for distance learning?
We designed a distance learning platform that you can implement in 1 day
NUADU is a ready-to-use tool for distance learning that allows you to respond quickly to crises and avoid disrupting the school year — even during an epidemic.
We offer a data-driven system for personalized education that will help your students reach their academic goals anytime, anywhere. All they have to do is download the complimentary mobile app, which informs them of new activities assigned and lets them study at their own pace using their smartphones.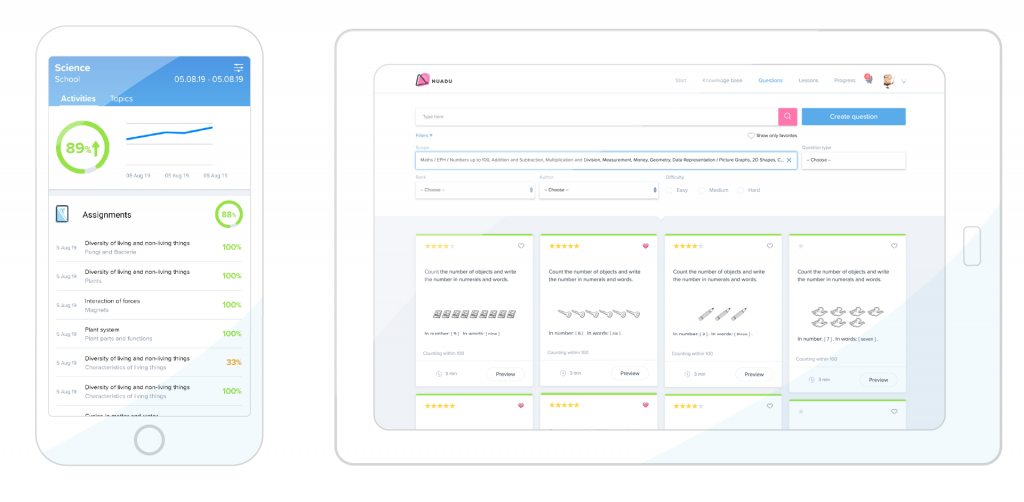 Benefits:
Assign activities and access interactive resources
Save time on grading and assessment; our platform does that automatically in real time
Provide individualized and instant feedback to students' work
Track and monitor performance on an individual, group, and class level
Real-time technical support
Remote process:
Demo
Initial meetings
Agreement signing
User training and tutoring
Technical support
Interested?
Fill in our contact form so we can reach you to discuss how NUADU can assist you in distance learning.